The media connectors are the physical device that helps to transfer the data between the systems. Each end of the wires will have connectors. Media Connectors are various types based on the wire used like Twisted pair –STP, UTP, Coax cable, Fiber cable, and application. Sometimes media Connector also depends on the form factor because of the availability of space /port on the device. Shielded cable has a different type of connector than an unshielded cable. Connectors are usually plated with high-conductivity metals such as silver or tarnish-resistant gold.
In this section we learn about popular media types used in various applications in data communication and networking. Here we categories media type based on the cable used for data transmission.
Media Connector for Coaxial Cable
Media Connector for Twisted Pair Cable
Media Connector for Fiber Optic Cable
Media Connector for Coaxial Cable
BNC Connector
BNC connector (Bayonet Neill–Concelman) is used with coaxial cable. It is quick to connect/disconnect the radio frequency connector. It is also called British Naval Connector. The connector was named after its 'Bayonet locking mechanism' and its two inventors Neill and Concelman.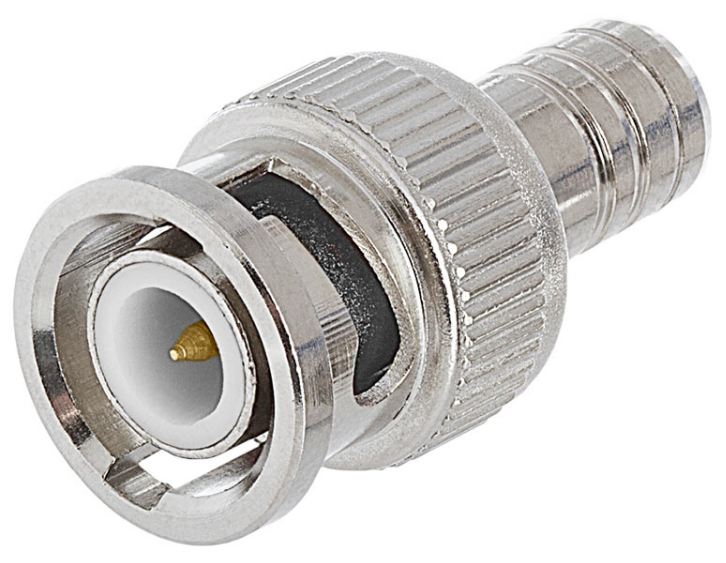 BNC connectors are most commonly made in 50 and 75-ohm versions, matched for use with cables of the same characteristic impedance.
It is commonly used on 10base2 thin Ethernet network cables.
It has both male and female types. The BNC male connector is mounted at each end of a cable and has a center pin connected to the center cable conductor and a metal tube connected to the outer cable shield. A rotating ring outside the tube locks the cable to any female connector.
BNC-T connectors which are used with the 10Base-2 system are female devices for connecting two cables to a network interface Card (NIC). A BNC barrel connector connects the two cables together.
BNC used for connecting in networking, video signals, timing signals and in instrumentation
Threaded version of the BNC connector, known as the TNC connector (Threaded Neill-Concelman) used in  microwave frequencies applicaton.
All RF Connectors have gender either male or female The male connector is often called the plug. The female connector is often called the jack the receptacle or the socket.
SMA
The SMA connector is a sub-miniature coaxial cable connector. SMA – Sub Miniature version A connectors. SMA connectors are designed to have a constant have a 50-ohm impedance across the connector. It is commonly used in microwave systems up to 18GHz Frequency.
The SMA connector comes in various formats, male, female, straight, right-angled, bulkhead fitting, and many more.SMA male connector has a center pin surrounded by a barrel with inside threads, and the standard SMA female connector has a center sleeve surrounded by a barrel with outside threads.
connector used with coaxial cables are known as RF connector (radio frequency connector).As it  work at radio frequencies in the multi-megahertz range.
F-type connector
The F connector also known as  F-type connector is a coaxial RF connector usually used with RG-6/U coaxial cable. it is widely used with domestic television equipment. it is ideal for terrestrial and satellite links between antennas / down-converters or LNBs and the television itself. The connector has male and female connections.
Type N connector
High Power VHF or UHF such as 500 Watts or more. Used for low loss coax with that end connector is specifically designed so that there's no impedance bump hence no generation of reflected waves.
It has both male and female version in 50 Ohm and 75 ohm
Media Connector for Twisted Pair Cable
RJ-11
It is used in a telephone system where it uses twisted pairs cable. It is a modular jack with two, four, or six contacts. It has six conductors but usually implemented with four. It is normally used in the ordinary phone which is plugged into from the ordinary untwisted wire commonly called flat wire.
Registered jack abbreviated as RJ Standard used in telecommunication for connecting voice and data equipment.
RJ45
It is a type modular plug cable connector which is mainly used in computer networks. which is used to connect different types of devices like switch, hub, PC, router, firewall to each other. The abbreviation, RJ45, stands for Registered Jack-45.
The most common twisted-pair connector is an 8-Position, 8-Contact (8P8C) modular plug and jack. RJ45 also refers to Ethernet cables today.
The difference between the phone connector and RJ-45 connector is that phone connectors have four-wire, as found in the home system. The RJ-45 connector contains eight contacts, one for each wire in a UTP cable.
Shielded RJ45
Shielded RJ45 connector used with STP cable in like cat6a, cat7, etc. It is similar to RJ45 with additional shielding and improved quality in twisting of the wires provides better protection from crosstalk, noise, and interference that can degrade the signal quality. The ground wire used to connect the shielding.
Designed to be used in server applications, cloud computing, data centers, and high-performance computer networking application. Perfect to connect Playstations, Xbox, Network Adapters, Hubs, Switches, Routers.
GG45 connector
GG45-GigaGate45 it was developed by NEXANS.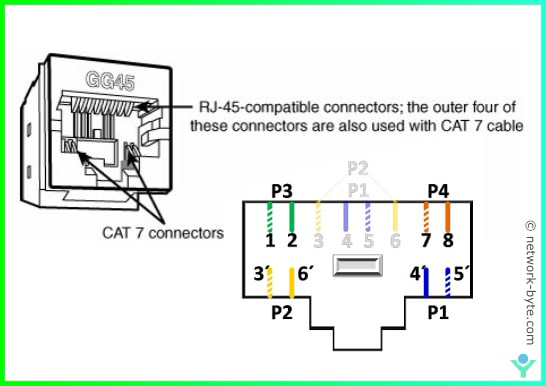 It is a connector for high-speed category 7 Cable. Used for backbone connections between servers within a data center. provides an alternative to using fiber optic cabling. Design to support a much higher frequency signal than cat5e and Cat6. But not widely adopted.

TERA Connector
It is a non-RJ type that is more RF friendly, with lower insertion loss. It is used for STP in cat7 cable develop by Siemon Company.
Media Connector for Fiber Optic Cable
There are many types of fiber connectors based on fiber type, application, form factor, ferrule size. Here we divide the fiber connector into two major categories based on the number of fiber strand and ferrule size. Strand Fiber is a single strand of Glass (optical fiber) used to send Data.
The fiber connector which uses single fiber strand categories as Mono Strand  Fiber Connector that contain single fiber cable can be a single-mode fiber or multimode fiber end connected with single/Mono fiber connector. Some Mono connectors are available in the duplex version where two fiber strands are used.
The Extended cylindrical tip of a connector that makes contact is known as Ferrule
Mono fiber connector further classified into three categories based on ferrule size. The ferrule size could be 2.5mm.1.5mm, which is more common, and other variance ferrule size connectors are also available.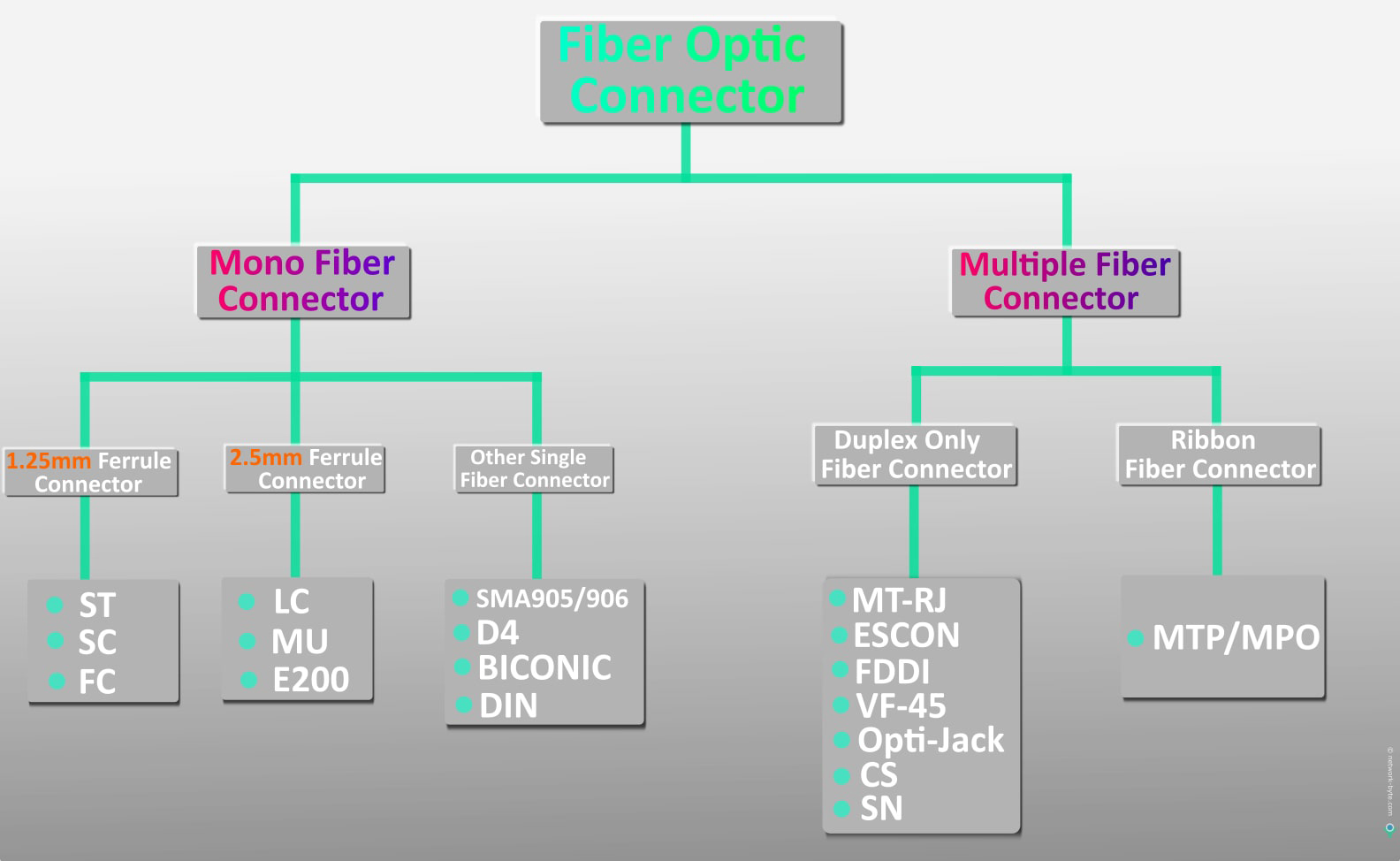 The fiber connector which uses multiple fiber strand in one connector categories as Multiple Fiber connector. it is further categories as Duplex connector that contain only two fiber strand in the single connector and another one is Ribbon fiber connector which uses more than 4 fiber strand in a single connector.
Fiber optic cable terminated with fiber optic connectors on both ends is known as Fiber optic patch cable.
Fiber optic cable terminated with fiber optic connectors at one end and another end of the wire is simply exposed known as fiber pigtail.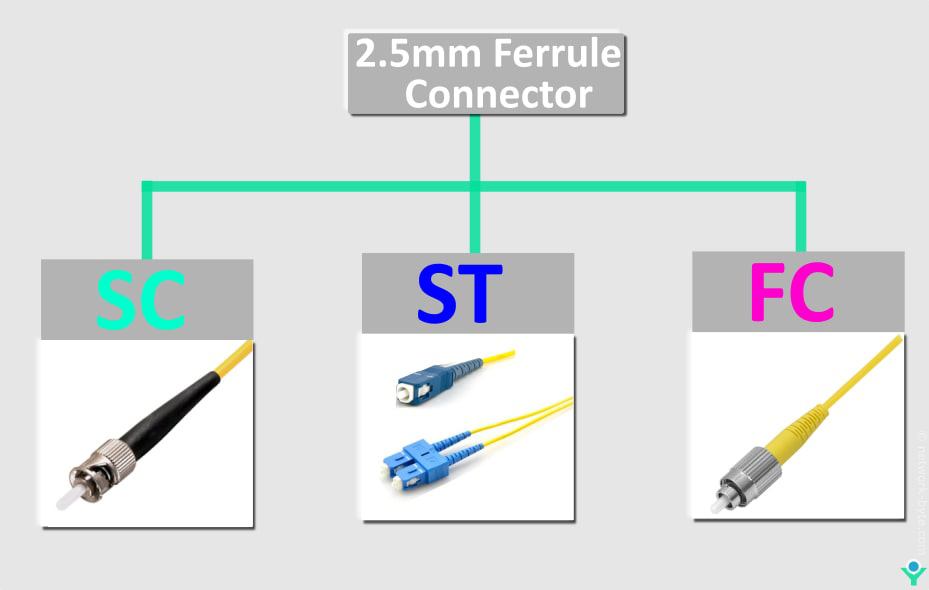 2.5mm Ferrule Connector
ST
ST- stands for Straight Tip
5mm Diameter Ferrule Connector
It is available in simplex type only i.e only one connector.
Single-mode and multimode both fiber are used in this connector.
The coupling mechanism is bayonet type in ST connector
SC
SC-Standard Connector /Subscriber Connector /Square Connector
5mm Diameter Ferrule Connector
It has a push-pull/Snap coupling mechanism
It is available in simplex and Duplex type and used in both single and multi-mode fiber
FC
FC- Ferrule Connector / Fiber Channel
5mm Diameter Ferrule Connector
It has a screw locking mechanism
It is designed to use in high-vibration environments
It is available in simplex type only i.e. only one connector
Single-mode and multimode both fiber are used in this connector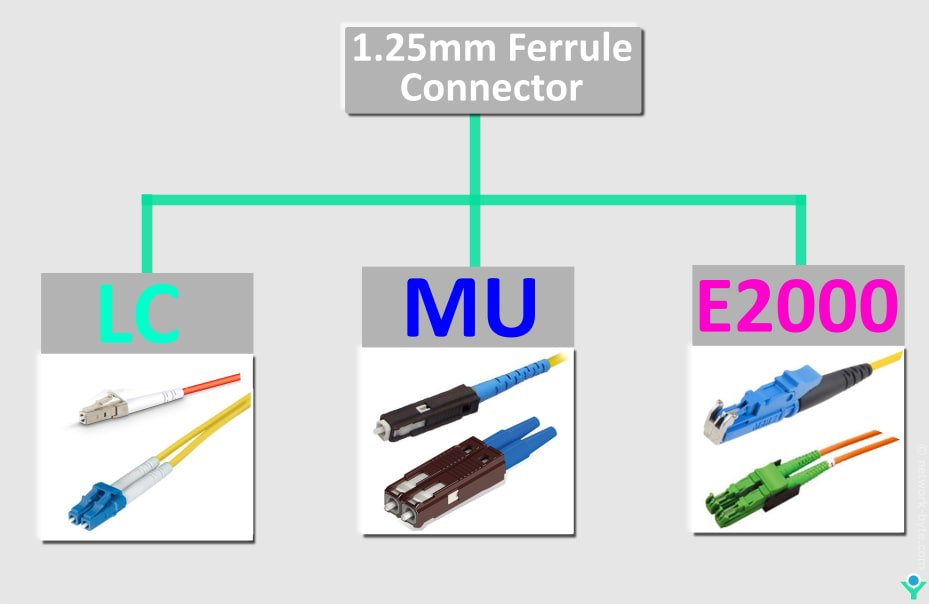 1.25mm Ferrule Connector
LC
LC-Lucent Connector/Local Connector /Little connector
25mm Diameter Ferrule Connector
It has Snap coupling mechanism
It is available in simplex and Duplex type and used in both single and multi-mode fiber
MU
It looks like a miniature SC connector is about half of the SC size a reduced footprint and used in dense applications.
25mm Diameter Ferrule Connector
push-pull Locking Mechanism
It is available in simplex and Duplex type and used in both single and multi-mode fiber
E2000
It has a push-pull latching mechanism
25mm Diameter Ferrule Connector
It has a spring-loaded shutter which fully protects the ferrule from dust and scratches
When it is plugged into the adapter the shutter opens automatically
It is also called LX.5 Connector
It looks like LC connector with shutter
It is used for both Single and Multimode Fiber
Other single fiber connectors
SMA905/SMA906
SMA-Sub Miniature Version A
14mm Diameter Ferrule Connector
SMA906 has step ferrule connector whereas SMA905 has full cylindrical ferrule
Available in Simplex only for multimode fiber
Used in medical and Industrial Application
D4
5mm Diameter Ferrule Connector
Available in Simplex only
It is Obsolete, not much used in toady's network
BICONIC
One of the first connectors employed in fiber optic
It exhibits a cone-shaped ferrule that helps to align the optical fibers at the connection interface.
It is Obsolete
Available in Simplex only
Used in multimode and Single-mode fiber
It is Obsolete
Available in Simplex only
Used in multimode and Single-mode fiber
DIN
DIN connector is half the size of the FC connector
Doubles the port density compared to conventional fiber optic connectors
Available for Single and multimode Fiber
Duplex Only fiber connector
MT-RJ
MT-RJ Mechanical Transfer Registered Jack
Small Form-Factor Connector
Available in Male/Female Connectors, or a plug and jack format
The overall size is about the same as a RJ45 connector.
The only duplex multimode connector that holds two fiber in a plastic ferrule.
ESCON
ESSCON-Enterprise Systems Connection
Used in IBM mainframe computers for interfacing peripheral storage devices.
Similar to FDDI connectors, but contain a retractable shroud instead of a fixed shroud.
2.55 mm ceramic ferrules
FDDI
FDDI-Fiber Distributed Data Interface Connector
It has two 2.5mm ferrule
ferrules are sheltered from damage
Available in Duplex only for multimode fiber
VF-45(3M Volition)
Designed by 3M
Available in Duplex only
No ferrule available, that reduce cost
VF-45 plug is inserted into the socket(jack) at a 45-degree angle, pressing a pair of fibers into V-grooves inside the socket.
Opti-Jack(Panduit)
It resembles RJ-45 type connector
Available in Duplex only with two ST type ferrules
5mm Diameter Ferrule Connector
Snap-Lock Plug and jack version
It is a version of Fiber Jack connector design from Panduit Corporation
CS Connector
CS Connector developed by Senko
25mm ferrule technology
Half-size of LC connector
Push /Pull Locking Mechanism
Duplex type connector
Support for next Gen 200/400 G transceiver QSFP-DD and OSFP
SN Connector
SN Connector developed by Senko
25mm ferrule technology
Half size of LC connector
Push /Pull Locking Mechanism
Duplex type connector
Designed for OSFP/QSFP-DD Break out an application
4 Duplex connectors (total 8-fibers) in OSFP/QSFP-DD footprint
Ribbon fiber connector
MTP/MPO
MPO – Multi-Fiber Push-On
MTP – Multi-Fiber Termination Push-On
MPO is the standard
MTP is a trademark "US Conec" and high-performance version of MPO connector
MTP and MPO connectors are interchangeable.
It has two version MPO12– 12 fiber strand and MPO24– 2 rows of 12 fiber strand.
It has two type

Male-having two pin
Female-having two hole  to ensure alignment of the fiber end faces during mating

Available for both single mode and multimode fiber
UPC(flat) and APC(8° Angle) version
40 and 100GbE configuration
Fanout or Breakout – Breaking out into LC patches or SC patches four times 4x10G or 10x 10G
Ferrule-Polish and shapes
To minimize the losses the ferrule of fiber connectors are Polish and shape for their return loss reduction. To reduce back reflection and return loss caused by back reflection we use many methods, Which include Polishing Connector Ferrule with different shapes. Different polish shapes reduce return loss differently express with negative decibels. The fewer decibels, The less return loss.

Shapes and polishes used by ferrules to reduce back reflection
Flat Fiber Connector(FLAT)
Physical Contact(PC)
Ultra Polished Connector(UPC)
Angle Polished Connector(APC)
Flat Fiber Connector(FLAT) 
The Two Fiber meet but the end faces are polished to be flat
Relatively large end-face of the connectors
Leaving a small air gap between two connected ferrules
It has zero dome-shaped geometry.
More return loss, having more back reflection
Physical Contact(PC)
Polished with a slightly curved or spherical design to reduce the overall size of the end-face
Reducing the air gap between end-faces compared with flat fiber connectors
Resulting in lower Optical Return Loss(ORL)
The back reflection is about -40 db
Ultra Polished Connector(UPC)
The curvature makes them look more like a dome-shaped convex end-face
It has lower back reflection(ORL)
Back reflection reduced about -55db
UPC popular in the market and applications
UPC is a blue-colored Connector
Angle Polished Connector(APC)
A fiber connector end face is polished at an 8-degree angle
It maintains a tight connection, and it reduces back reflection to about -70db
APC connector color is green
APC and UPC connectors can't be mated together because doing so will cause poor performance or may damage the connectors.